Lifting Equipment
R&D specializes in lifting equipment and all of our Jib Cranes are designed in order to safely and efficiently move materials under 500lbs. We have a variety of lifting equipment available including our Jib Cranes, Workstation Jib Cranes, and Freestanding Jib Cranes.
Learn more about lifting equipment here >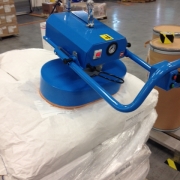 Vacuum End Effector for Warehouse
This warehouse needed a way to lift a variety of different items up, without damaging them.