Vacuum Bag Lifters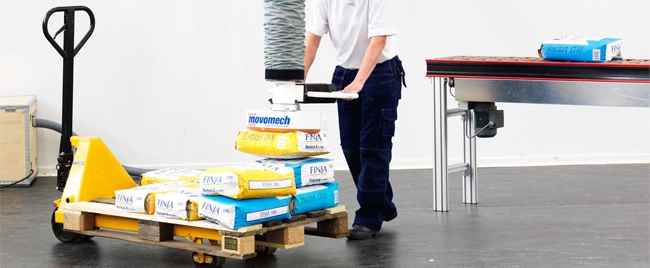 ... Bag Lifters Increase Efficiency and Productivity
Sack and bag lifting is a common problem in many industries that causes a financial strain on the company as well as your employees physically. With over 20 years of experience solving ergonomic bag handling challenges, we have a diverse line of products designed to reduce/eliminate employee injury while increase productivity at your facility.
Vacuum Bag Lifting Solutions
One option for eliminating employee downtime as a result of injury or fatigue is to implement a Vacuum Bag Handling Solution. Vacuum Lifters are the perfect solution for quickly and safely moving sack and bags in an efficient and safe manner, without harming the product. Our Vacuum Handling Solutions are diverse and can be completely customized to suit your specific application, space and budgetary constraints. We have experience engineering, designing, installing and training on systems such as:
- Permanent Fixed Vacuum Bag Handling
- Portable Bag Handling
- Multiple Lift Bag Handling (for more than one bag/sack at a time)
Some of the more common types of bags/sacks our systems have been designed for include:
- Plastic or Paper Bags and Sacks
- Burlap Bags and Sacks
- Polywoven Bags and Sacks
Benefits of a Vacuum Lifting Solution include:
- Drastic reduction in heavy/repetitive lifting
- Customized for your specific application, designed to work with your product(s)
- Reduction in workplace illness/injury claims, resulting in lower insurance costs
- Allows for diversity/adaptability on the job, more workers are now able to complete the task without physical limitations being an issue
- Our systems pay for themselves via productivity and efficiency increases
- Weight and capacity ranges are considered during the design process, our systems can handle multiple weights, textures and products without altering the system
- Designed to work in your specific facilities conditions, such as high heat, dust, humidity, moisture etc.
Some of our more common Vacuum Bag/Sack Handling Systems can be found below. Click on any of the graphics to learn more about each specific system and which one may be right for you. If you have any questions or require advice in any way, we are just a phone call or email away!
Additional Resources:
Work-Related Musculoskeletal Disorders >