Box Handling Solutions
Box and Tote Handling Solutions
We at R&D Ergo Ltd have an extensive line of Ergonomic Box and Tote Handling Equipment designed to improve efficiency and eliminate workplace injuries.
Having a wealth of Box and Tote Handling experience, we have a versatile and wide range of products and solutions designed for various industries. Depending on your facility and the nature of the work being performed, we have both portable and fixed systems which can be tailored to your specific material handling requirements.
Why a Box or Tote Handling System will Improve your Workplace
The manual handling of boxes or totes will often expose employees to physical challenges that may lead to injuries, wasted time and energy. To improve these common workplace problems, your organization could directly benefit from a comprehensive analysis of the employees role and capabilities. It is important to remember that there are a variety of factors that must be considered in a comprehensive role analysis that are above and beyond that physical job itself. It is important to consider additional variables such as age discrepancies between roles, physical condition of the employee, strength, and stature.
Improving the portions of a particular role that you can control is an excellent start to changing the efficiency and culture of your workplace.
Some common questions to ask yourself before deciding if a Box or Tote Handling Solution is required include a thorough analysis of the role itself:
- Awkward Postures/Positions (Does your staff repeatedly bend, twist or lift?)
- Repetition (Does your staff frequently reach, lift or carry?)
- Forceful Exertions (Does your staff carry or lift heavy loads?)
- Pressure Points (Does your staff have to learn on or against parts?)
- Static Postures (Is your staff required to maintain a fixed position for a length of time?)
If you answer yes to any of these questions, an Ergonomic Box or Tote Handling System is required.
Below we have listed some of our more common Box and Tote Handling Solutions. Click on any of the graphics or links to learn more about a particular solution.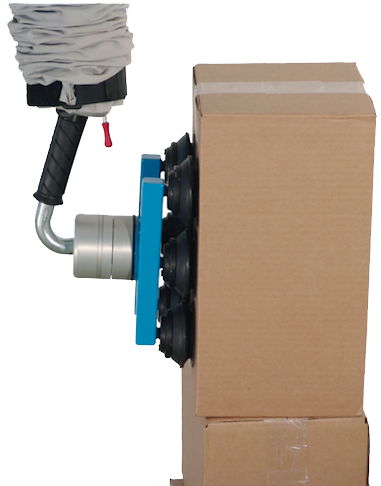 Vacuum Box Handling Solutions
At R&D we have an extensive line of Vacuum Box Handling Solutions designed for various weight capacities, industries and products.

Rotacaster Hand Trucks
The revolutionary, award winning design of Rotatruck Self Supporting Hand Trolleys specifically addresses issues of hand trolley use which often result in workplace injury.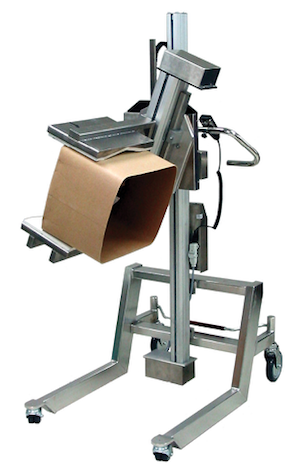 12120 Series Squeeze-0-Turn
The Squeeze-0-Turn combines the Lift-0-Turn and Lift-0-Squeeze components to create a product that assists in providing load handling for lifting and rotating rolls, barrels, drums, buckets and boxes.

Additional Resources:
Work-Related Musculoskeletal Disorders >