Enclosed Track Bridge Cranes and Monorails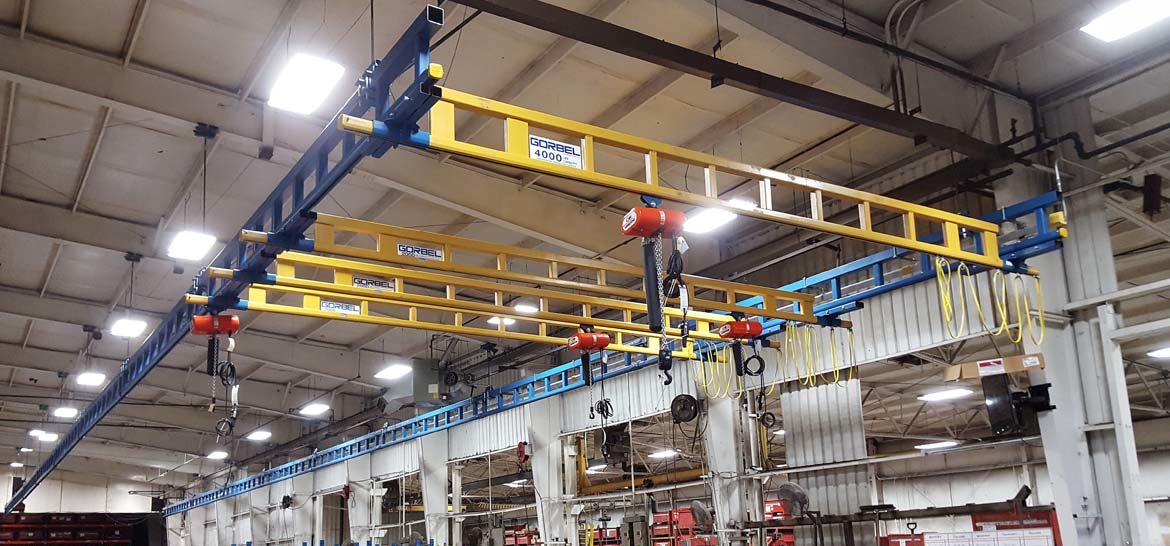 Enclosed track monorails give you easy movement and long life. Both the steel and aluminum work station crane systems use enclosed tracks which are both strong and lightweight. The two-degree taper of the running flange helps to centre the wheels on the track and prevent debris from setting on the rolling surface. This allows for smooth, effortless movement of the trolleys and end trucks.
Monorails
Aluminum Track Monorail
For use where lower bridge weight and easier movement are required. The patented shape of this aluminum enclosed track provides for low weight, unparalleled spanning capabilities and effortless movement.

Movomech Monorails
Movomech includes a line of Rail Systems including electric, pneumatic, and vacuum. Through a series of suspensions and trolleys, one can easily build complete systems, even with extensions and accessories as needed.

Plain Steel Track Monorail
For use where frequent support points are available or where maximum headroom is required. This standard cold-rolled steel track profile offers a low-weight to high strength ratio.

Trussed Steel Track Monorail
Permits longer spans when frequent support points are not available, giving you more flexibility in the crane layout. The trussed series uses the plan steel track profile but is enhanced for longer spans via a built-up truss design. This design increases the span, which decreases the need for frequent hangers.

Additional Material Handling Resources:
Latest News 
Work-Related Musculoskeletal Disorders >