The Anver VT boasts an easy-to-use up and down control system with an easy grip handle. This handle and system can be adjusted to match the operator(s) hand strength and provides a 100% continuous duty cycle.
 This system features an all-new bag handling pad attachment, designed to move product on pallets and conveyors without bending, stretching, reaching, or lifting. This system is designed for bags/sacks up to 125lbs. (57kg), and allows companies to move product safely and efficiently without compromising worker safety.
Baghead attachments are available in plastic and stainless steel depending on the nature of the industry and includes a heavy-duty pump, wire-reinforced tube, and vacuum gauge.
The Anver VT-Series Vacuum Handling System can be combined with a fixed or portable system depending on the nature of your business and the need for the job.
Benefits of a Vacuum Lifting Solution include:
Specifications/Features
Projects
Video
Resources
Specifications/Features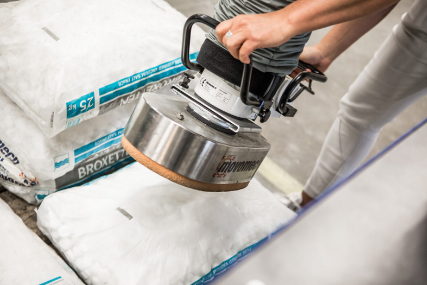 Drastic reduction in heavy/repetitive lifting
Customized for your specific application, designed to work with your product(s)
Reduction in workplace illness/injury claims, resulting in lower insurance costs
Allows for diversity/adaptability on the job, more workers are now able to complete the task without physical limitations being an issue
Our systems pay for themselves via productivity and efficiency increases
Weight and capacity ranges are considered during the design process, our systems can handle multiple weights, textures and products without altering the system
Designed to work in your specific facilities conditions, such as high heat, dust, humidity, moisture etc.
Projects
Video
Resources
A Guide to Workplace Musculoskeletal Disorders
We offer a huge selection of products and quick quotes for what you're looking for
Give us a call. Our friendly customer service staff are on hand to help you.