Easyhand M Vacuum Lifting System
The Easyhand M is a vacuum lifter for loads up to 55 kg. The lifter is designed with a single-hand grip. The lifting and lowering functions are regulated via a control which provides optimal ergonomics, safety and precision.
We recognize the needs of your facility are likely highly specific which is why we offer a wide range of standardized grippers and accessories such as; angular toggle joints, quick fasteners, extension parts, and elbow joint handles.
The design of the Easyhand M aims to maintain a minimal level of leakage, which ensures secure performance and a drastic decrease in energy consumption.
With controls on the handle, adjusting the hovering settings with and without load is easy. The Easyhand M allows easy and comfortable handling of a wide range of items, from sacks and carton boxes to board material such as glass, metal sheets and doors.
Benefits of a Vacuum Lifting Solution include:
Specifications/Features
Projects
Video
Resources
Specifications/Features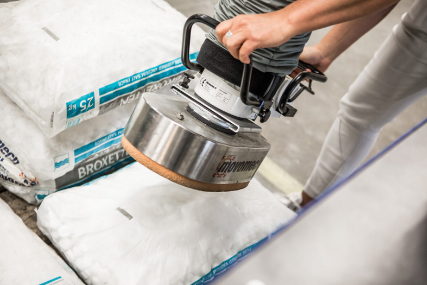 Drastic reduction in heavy/repetitive lifting
Customized for your specific application, designed to work with your product(s)
Reduction in workplace illness/injury claims, resulting in lower insurance costs
Allows for diversity/adaptability on the job, more workers are now able to complete the task without physical limitations being an issue
Our systems pay for themselves via productivity and efficiency increases
Weight and capacity ranges are considered during the design process, our systems can handle multiple weights, textures and products without altering the system
Designed to work in your specific facilities conditions, such as high heat, dust, humidity, moisture etc.
Projects
Video
Resources
A Guide to Workplace Musculoskeletal Disorders
We offer a huge selection of products and quick quotes for what you're looking for
Give us a call. Our friendly customer service staff are on hand to help you.