Drum and Barrel Handling Solutions
We provide a safer, healthier, more efficient workplace for employees with an extensive line of Barrel and Drum Lifters. Our systems are designed to lift, transport, tilt or rotate Drums and Barrels of various size and weight. Below are some of past drum handling solutions in use.
Learn more about our drum handling solutions >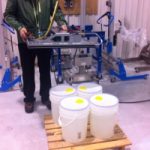 Vacuum Lifting Solution for Pails of Water
One of our long time customers contacted us to solve a ergonomic solution in their facility. In need of moving large pails of water, they were looking for a reliable and efficient solution.