Wall Mounted PIVOT Pro 100lbs Capacity
These wall-mounted articulating jib cranes have a 100 lbs capacity. The PIVOT Pro is an articulating jib crane specifically designed for light applications, its smaller capacity makes it sleek, allowing it to easily move. These jib cranes help to reduce physical strain on workers, reduce employee injuries and increase efficiency.
With their versatile design and impeccable 100 lbs capacity, these wall-mounted jib cranes are essential for optimizing workflow. The PIVOT Pro, designed for light applications, combines sleekness and mobility to effortlessly enhance workplace safety, productivity, and employee well-being. Say goodbye to strain, injuries, and wasted effort with these reliable jib cranes by your side.
| Span (A) | Model Number | Shipping Weight | Thrust & Pull |
| --- | --- | --- | --- |
| 8′ | PPRO-WM-100-8-T | 235 lbs | 849 lbs |
| 10′ | PPRO-WM-100-10-T | 250 lbs | 1,086 lbs |
| 12′ | PPRO-WM-100-12-T | 265 lbs | 1,337 lbs |
Features and Benefits
Projects
Resources
Features and Benefits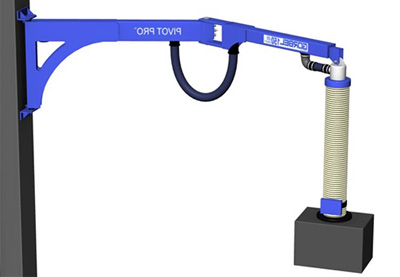 Easily position loads to places you cannot reach with traditional jibs.
Easy rotation and consistent responsiveness when positioning loads throughout the crane's coverage area.
Easy movement, traditional jib cranes can be difficult to rotate when the load is on the inner half of the boom, this is not a problem with the PIVOT PRO which is easier to rotate in close to the free-standing mast or building column.
Projects
Resources
A Guide to Workplace Musculoskeletal Disorders
We offer a huge selection of products and quick quotes for what you're looking for
Give us a call. Our friendly customer service staff are on hand to help you.