19000 EEX D Explosion Proof Barrel Lifter
The 93096 Series, 19000 EEX D Explosion Proof Barrel Lifter gives users the confidence to meet the demands of a job which require the use and movement of explosion-prone materials. Not only will this barrel lifter allow for you to ergonomically move a product from one location to the next, but it will also give you the ability to lift, tilt and pour drums safely.
The lifter is self-contained and has explosion-proof enclosures for the control panel and power pack (batteries) which, are also spark resistant. The battery compartment is able to be mounted permanently to the lifter for charging outside the EX-room or it can be mounted with a "quick disconnect" feature for charging in a neutral zone. This series of drum lifter is comprised of modules, which allows for the interchangeability of components, to meet your ergonomic requirements.
Additionally, the intermediate section is provided with a lift motor for powering the mast slide for easy and safe movement up and down of the end effector. The mast is completely enclosed and is provided with a ball screw for smooth up and down DC powered movement. A slip clutch on the down movement provides added security for safe load handling.
Benefits of Barrel Lifters
Enhanced safety: Barrel lifters are designed to ensure safe handling and movement of explosion-prone materials.
Ergonomic handling: This barrel lifter is designed to provide an ergonomic lifting solution, minimizing the risk of injury and improving operator comfort during material handling tasks.
Versatile: With the ability to lift, tilt, and pour drums, this barrel lifter offers a versatile solution for material handling tasks in a variety of industries.
Durable construction: The steel frame and heavy-duty components of this barrel lifter are built to withstand tough working environments, ensuring reliable performance and a long service life.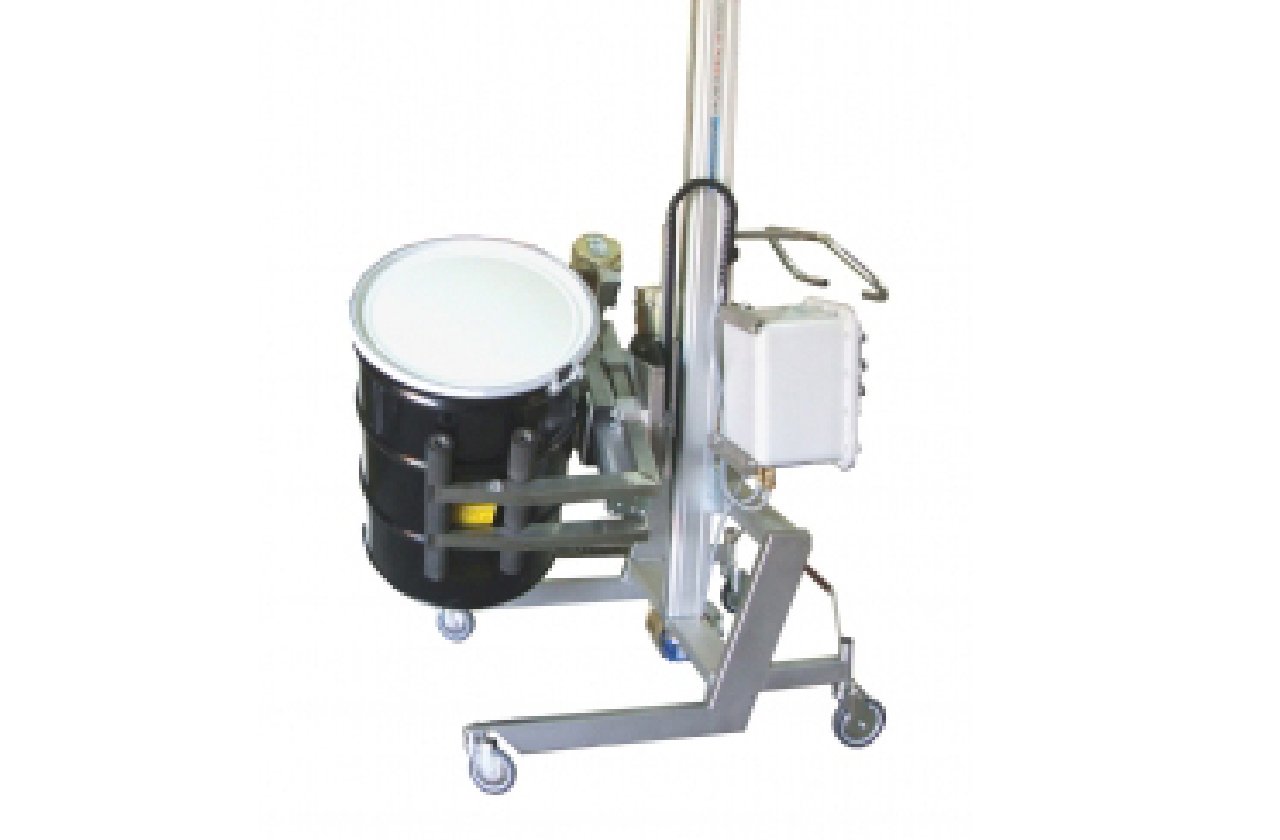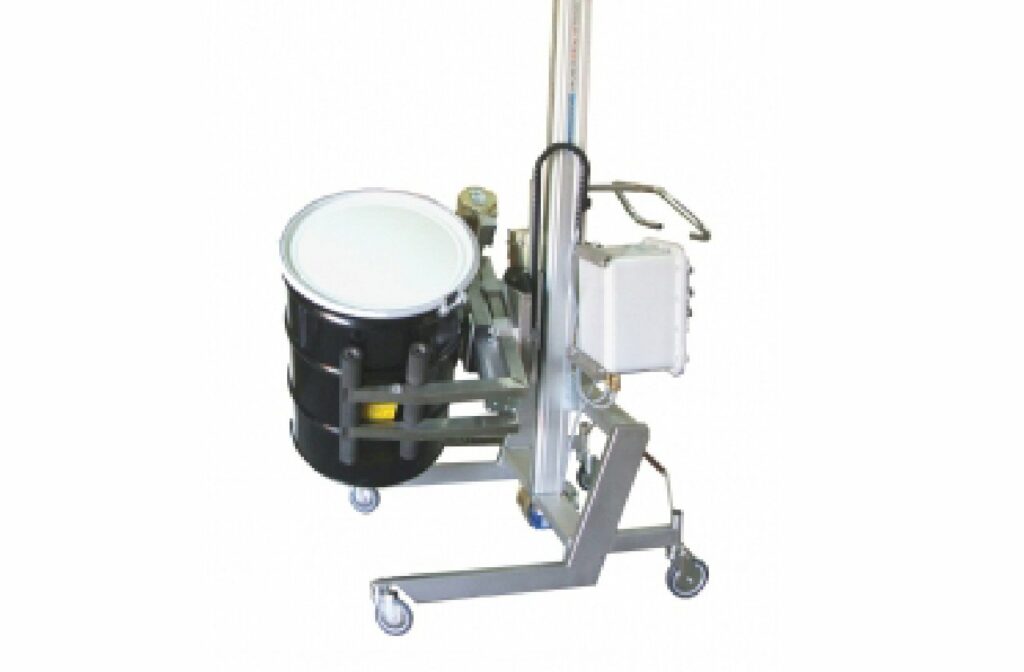 Specifications/Features
Projects
Video
Resources
Specifications/Features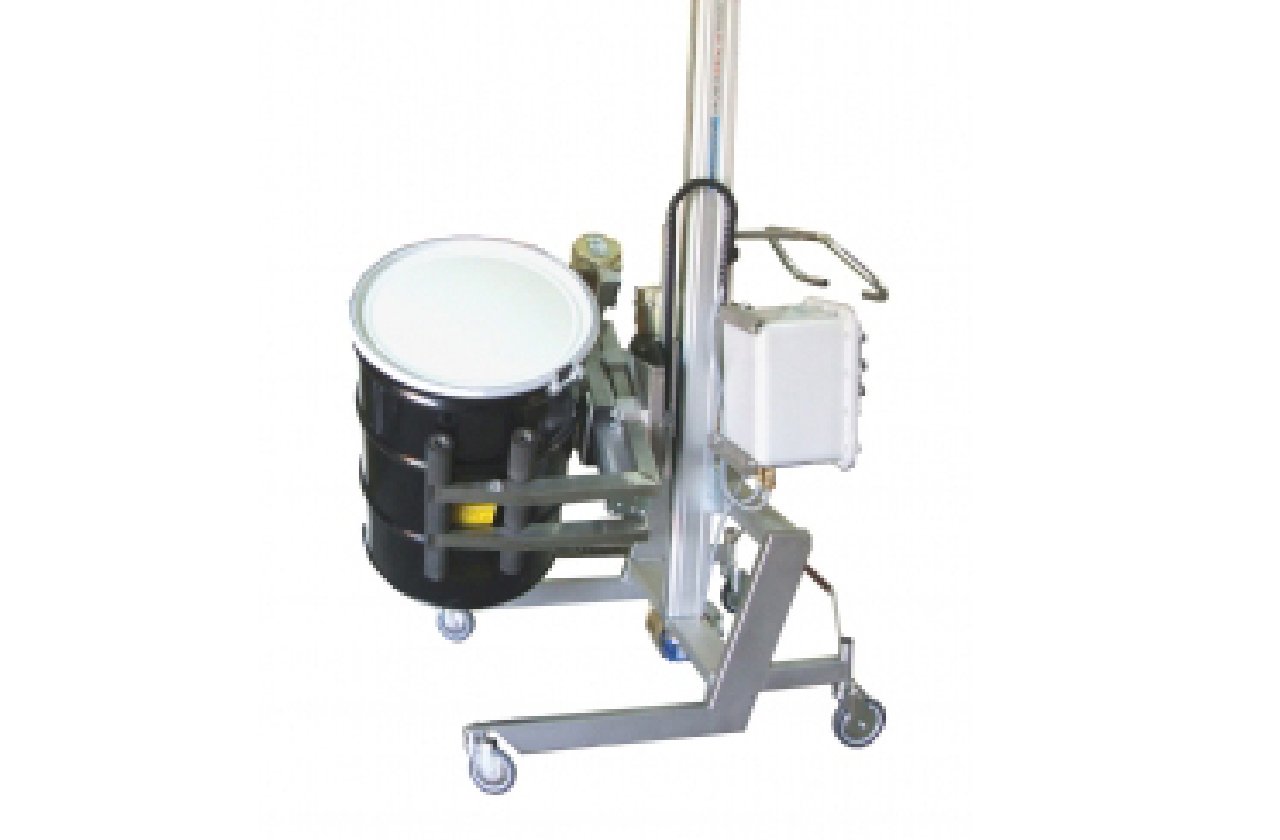 Dimensions. 38.75″ L x 35.5″ W x 118.2″ H
Drum Handling. Outside Diameter Clamp
Movement A foot-operated rear central braking system is used on the lifter, along with front mounted casters and swivel casters at the rear.
Options & Accessories. An optional scale can also be provided to weigh loads during processing operations.
Design For Lifting and moving drums weighing up to 700 lbs.
Controls. Push Buttons
Safety FeaturesBuilt-in safety feature controls prevent accidental release of the drum
Number of Users. 1 User
Projects
Video
Resources
A Guide to Workplace Musculoskeletal Disorders
We offer a huge selection of products and quick quotes for what you're looking for
Give us a call. Our friendly customer service staff are on hand to help you.