Flexible articulated jib crane with integrated vacuum lifter. The Movomech EasyCrane is a complete stand-alone lifting solution for fast and easy lifting. 
This mobile jib crane has a generous range and height-adjustable floor pillar, making it adaptable for most workplaces. With an optional mobile footplate, this jib crane can easily be moved with a pallet truck between different workstations.
This crane is equipped with a vacuum lifter that is connected to a vacuum pump, located on a shelf beside the crane. This extremely versatile crane can be used to handle loads of different sizes, shapes and weights and loads can be gripped both horizontally and vertically while rotating freely.
This jib crane has an inner and outer jib arm, both of which can be locked in rotation. The inner and outer jibs are available in three different lengths, and the other jib can be obtained in two different designs.
One version with a lifting hose and fixed length and one with workplaces with low ceilings where the lifting hose runs over a wheel.
On the inner jib, there is a parking brake that can be used to prevent the arm from "walking" from the position. Between the inner and outer jib are two rotational limiters, restricting the rotation angle of the outer jib.
Several different variants of suction cups and vacuum yokes are available. As an option, there is also a parking position to hang the vacuum suction cup when the lift is still in operation.
Specifications/Features
Projects
Video
Resources
Specifications/Features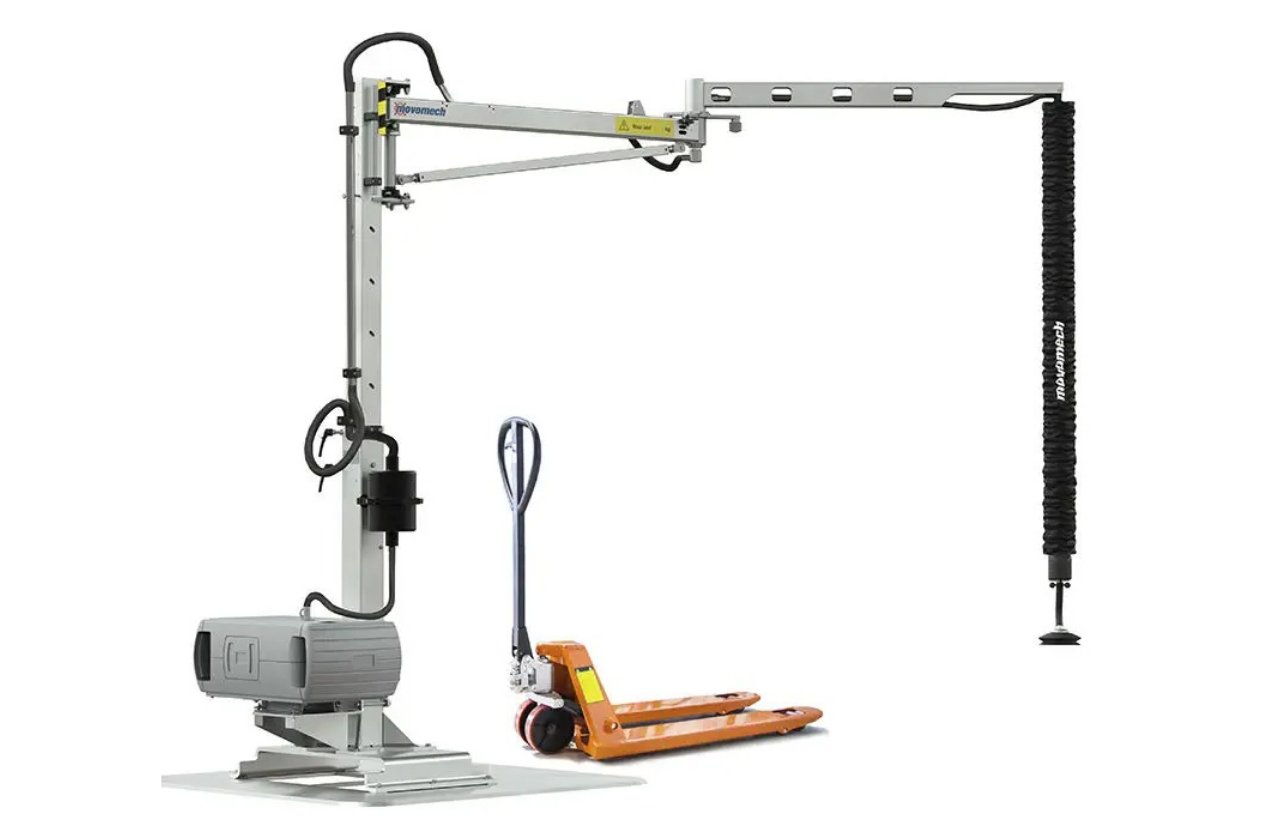 Made of Anodized and maintenance-free surface with flexible and adaptable handling solution and multiple pneumatic configurations
Gripping Mechanism Loads can be grabbed horizontally and vertically and rotated freely with a large selection of suction cups and vacuum yokes.
Movement With an optional mobile footplate, no installation is required and the crane can easily be moved.
Weight Capacity 45 kg
Designed For Lifting and moving parts weighing up to 45 kg. This system can be used for lifting items such as cardboard boxes, sacks, panels, barrels and furniture.
Controls Loads can be lifted with easy controls with quick connection for easy replacement of suction cups or tools.
Safety Features This jib crane also comes with an adjustable anti-jump function which locks the lifting motion in the event of uncontrolled lifting ie. a load is accidentally dropped.
Number of Users 1 User
Projects
Video
Resources
A Guide to Workplace Musculoskeletal Disorders
We offer a huge selection of products and quick quotes for what you're looking for
Give us a call. Our friendly customer service staff are on hand to help you.