Efficient material handling solutions are the unsung heroes of the manufacturing and warehouse industries. Dive in to discover how they boost productivity, reduce costs, and lay the foundation for a safer, streamlined workplace. 
In today's age, the dynamic of workplace priorities has shifted over time; industries are defined by their abilities to innovate and be efficient and their heightened emphasis on worker well-being and safety. Central among these practices are the usage of material handling and ergonomic solutions for product lifting and handling. Material handling is not just about having the right equipment; it's about integrating these solutions to create a seamless flow of operations. When appropriately executed, ergonomic solutions can considerably cut downtime, minimize errors, and significantly improve productivity. Equipment of this nature not only streamlines operations but also plays a significant role in ensuring employee safety and maximizing productivity.
There are many types of material handling equipment, including roll handlers, drum handlers, as well as carts and tuggers. Innovative solutions can improve your facility and make it a safer place to operate in. For instance, vacuum handling equipment can be used in various ways. 
A great example of the adaptability of vacuum handling equipment was when Liftsafe Ergonomics (formerly R&D Ergo) partnered with Golden Windows, a glass doors and windows manufacturer. Golden Windows faced the problem of their operators lifting the glass materials around the facility, risking injury and product loss. Liftsafe Ergonomics supplied them with a vacuum lifter attached to a roller so they could easily handle the large glass panels efficiently and safely.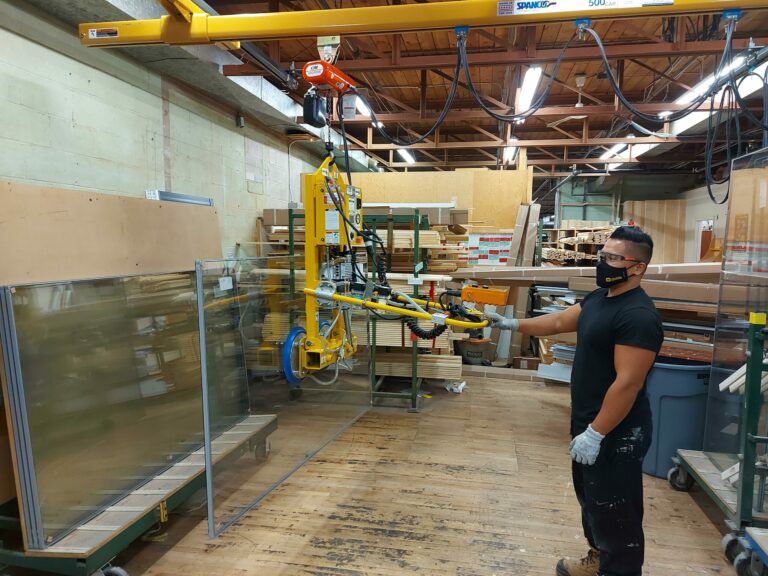 Ergonomic material handling equipment like these vacuum lifters provide safety, productivity, and value to your operations. Investing in material handling and ergonomic solutions can greatly increase the efficiency of your operations.
The Relationship Between Efficiency and Safety
You might be wondering how efficiency ties into safety. With proper material handling solutions, tasks and jobs become more straightforward, which in turn reduces the need for manual labour and minimizes the potential for human error. The reduction in manual labour tasks correlates directly with a reduction in workplace accidents and boosts efficiency and safety. In Canada, musculoskeletal disorders make up the most lost time injuries, the highest lost-time claim costs, and the most lost time workdays of any injury. Statistics Canada reports that 2.3 million Canadian adults experience a musculoskeletal disease or disorder. With such a high figure, we are committed to developing and revolutionizing material handling solutions to make your job easier and to mitigate risks surrounding it. 


Every worker is an integral part of the industry, and ensuring their health and well-being is paramount. Material handling and ergonomic solutions play a major role in ensuring that the tasks are manageable, reducing strain and the potential for injuries. These practices improve morale and productivity, as employees can see their safety is prioritized and invested in by their employers.
Significance of Material Handling and Ergonomic Solutions
For modern industries, it's vital to implement and take advantage of modern material handling solutions because they offer a wide variety of advantages to your organization and workforce, including:
Reduce Risk of Accidents and Damage

Improved Customer Service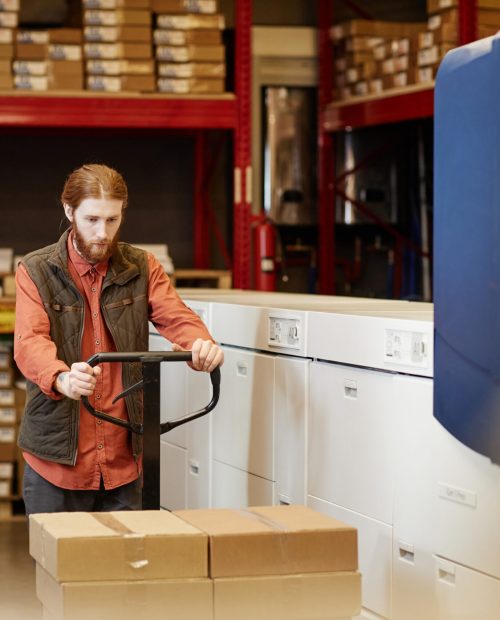 Take, for example, a hospital. With hundreds of patients and thousands of bedsheets, linens, and fabrics, the carts used to move them can be quite heavy and difficult to transport throughout the facility. To combat the strain and potential injuries workers might face, R&D Ergo provided a facility with a MasterMover Smart Mover SM100+ with a custom hitch designed for their linen carts, allowing them to move loads up to 2,600 lbs throughout the facility. Equipment upgrades like these are essential for streamlining your operations. From drum handlers such as the EL1000, which can lift up to 1000lbs, to roll handling devices like the RONI 20500 HS Series, which will optimize your material handling processes – these tools are irreplaceable.
Drum and Barrel Lifters/Handlers enhance workplace safety, health, and employee efficiency. Drum Lifters are tailored to lift, move, tilt, or turn drums of different weights and sizes.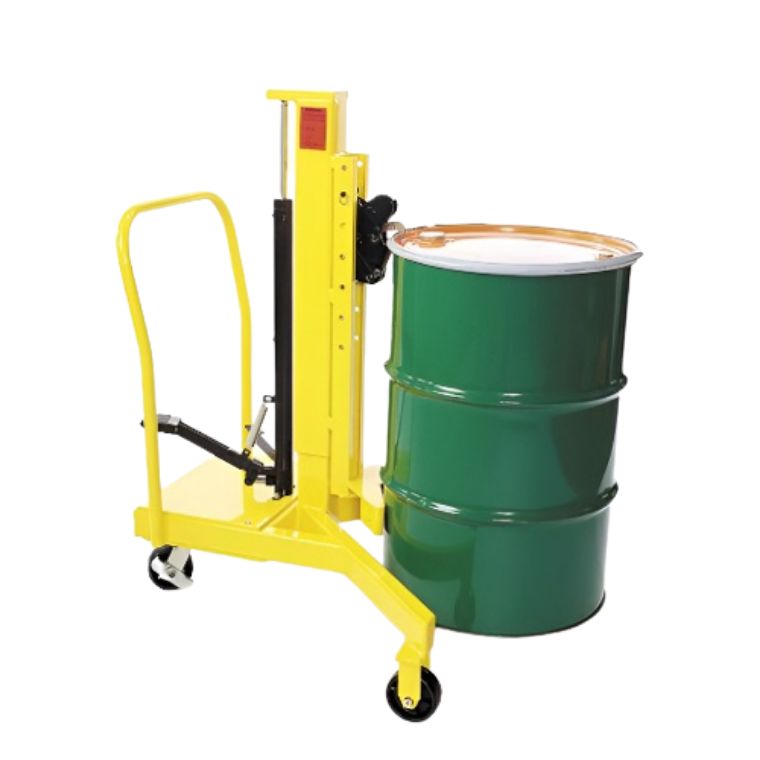 EasyLift Drum Transporter EL1000
The EL1000 lets you lift steel, poly, and fibre drums up to 1000 lbs (454 kg). This model also allows you to lift the drum twenty (20") inches.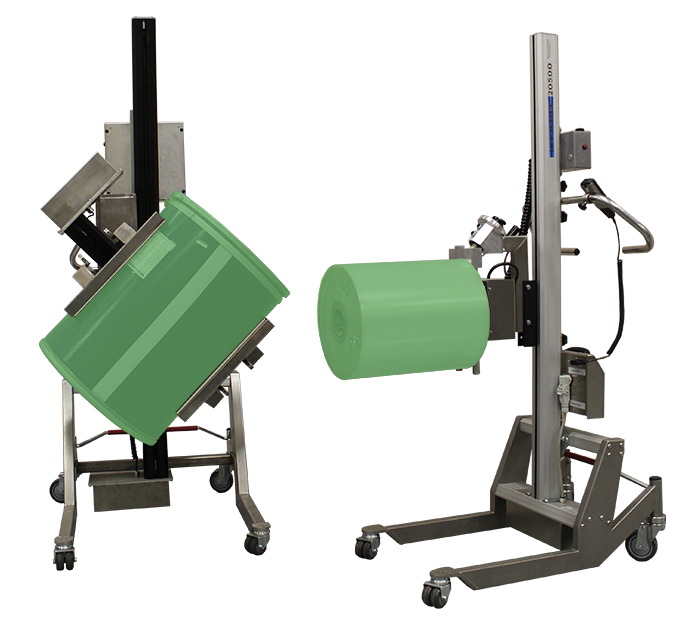 Lift-O-Flex + Squeeze-O-Turn
The Squeeze-O-Turn is an electric clamp and rotate module that squeezes a barrel of up to 22" from the outside. This model allows you to lift the drum and rotate it 360 degrees.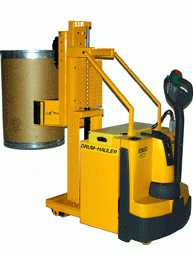 EasyLift DH800 Drum-Hauler
The DH800 Drum-Hauler is a compact hauler, designed to fit through a 30x80" doorway. The DH800 has a lifting capacity of up to 1500 lbs (680 kg) and a lifting height of up to 144".
Roll Handling devices reduce the risk of injury and assist in the optimization of material handling processes and output.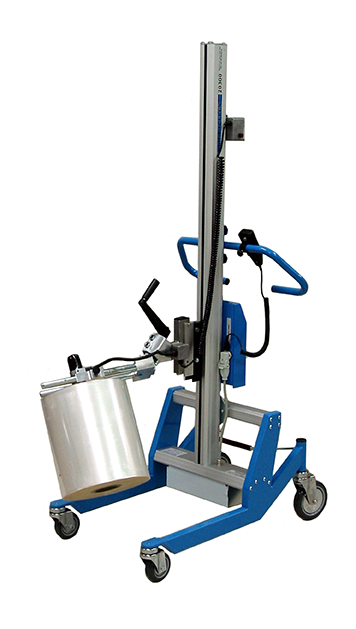 R ON I 20500
HS Series
The 20500 HS Series Portable Lifter is designed to simplify the handling, lifting, and transportation of goods. The 20500 HS Series can lift up to 285 lbs (130 kg) and can be equipped with many attachments.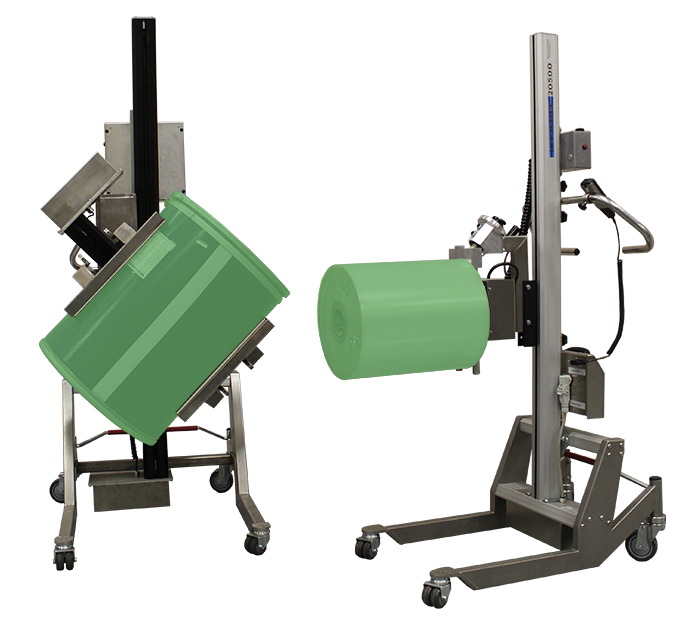 R ON I 19000
Series
The 19000 Series Portable Lifter offers a dynamic load-handling solution with a lifting capacity of up to 500 lbs (227 kg).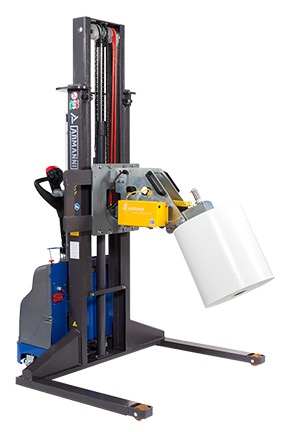 SPEEDY PT10X Lift and Turn Roll Handler
The PT10X is a walk-behind roll-handling machine that can lift up to 2200 lbs (1000 kg) and features a lift height of up to sixty-three (63') feet.
Tuggers, Cart Movers, & Motorized Carts
Tuggers, cart movers, and motorized carts allow you to move heavy loads with ease and are perfect for ensuring worker safety. These machines also increase productivity and are convenient and portable, with no electric cords or pneumatic hoses to trip over.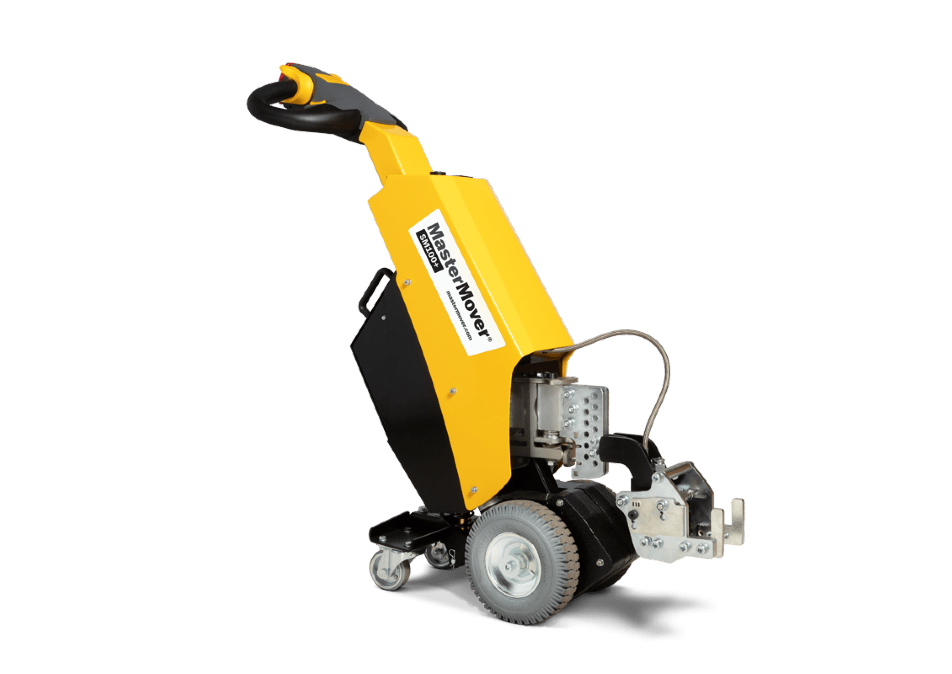 MasterMover SM200+
The SM200+ features a massive 4400 lbs (1995 kg) load capacity for its compact size. The SM200+ also features a 180-degree steering angle to provide precise handling and up to almost six (6 km) kilometres per charge.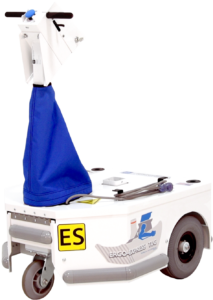 PHS West Ergo-Express
The Ergo-Express product line features a customizable line of motorized tugs. These light-duty tugs can be used in any environment and feature many customizable options.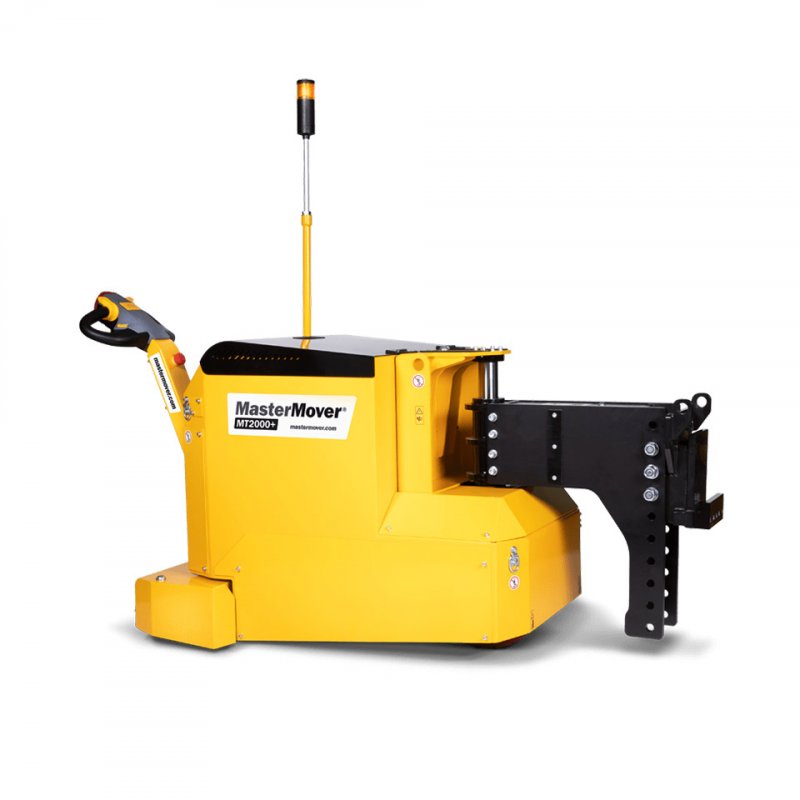 MasterMover MT2000+
The MT2000+ delivers unmatched manoeuvrability and load bearing, with a capacity of 20,000 kg. The MT2000+ is still a compact machine for its incredible lifting ability, measuring only 46.7" long and 33.9" wide.
These solutions offer tangible benefits in terms of productivity, cost savings, and improved customer service while also prioritizing the health and safety of workers. As industries continue to evolve and seek to innovate, the importance of material handling solutions remains a significant focal point. Embracing these practices not only ensures a more efficient, streamlined, and safe workplace environment but also secures the future of industries in an evolving global landscape.
For more information on material handling services and equipment, Liftsafe Ergonomics Division has the knowledge and experience to get you the perfect solution for your material handling needs.
Liftsafe Ergonomics Division, formerly R&D Ergo., is a member of the Liftsafe Group of Companies, and is known within the industry as a workplace safety problem solver. With strong alliances and partnerships, we bring added value to the delivery of your ergonomic work solutions. 
This article was written by Brogan Ali, Marketing Coordinator (Co-Op) for the Liftsafe Group of Companies.