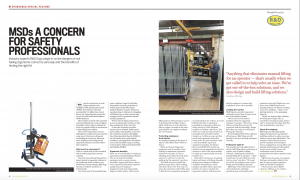 R&D Ergo was recently featured in Occupational Safety Magazine talking about Musculoskeletal Disorders (MSDs) and an aging workforce.
https://digital.thesafetymag.com/i/1366555-may-june-2021/43?
The article is filled with actionable insights for safety professionals or employers looking to take a proactive approach to tackling this issue and making things easier and more efficient for their workforce.
Including:
The number one cause of lost time from work and how to solve it.
The current trends according to Stats Canada regarding the demographics of your workforce and where that trend is headed (Hint: it isn't getting younger).
How much MSDs cost employers every year according to the Institute of Musculoskeletal Health and Arthritis. Where to start when it comes to looking at ergonomic solutions.
How one employer was able to solve the problem of needing six people to move a 2,200 kilo transfer cart and how they were able to reduce that to just one person with an easy ergonomic fix.
How to start using larger rolls in printing and packaging safely to reduce downtime.
What solutions are best for reducing repetitive strain injuries.
And much more.
If you're currently looking at ergonomic solutions for your facility, reach out to your local R&D ergonomic specialist for a consultation.