Manufacturing and Automotive
Having worked with all of the major North American and International Automotive Manufactures, we are familiar with the ergonomic challenges that factories worldwide are facing. Maintaining a safe and productive workforce is at the forefront of our designs. We take a collaborative approach to designing, manufacturing and installing reliable and proven systems.
WSIB statistics indicate that although steadily declining, the volume of injuries in the Manufacturing and Automotive are still alarmingly high. According to a recent WSIB Annual Report, the Manufacturing and Automotive Industries routinely ranked two and three in workplace injuries over the course of the past ten years. The WSIB report which can be found here, sheds light into a growing concern for productivity and deadlines over safety.
The fact is in most cases the cost of lost time due to injury, absenteeism, insurance rates and turnover as a result of heavy, repetitive or excessive job functions far out weighs the cost of an ergonomic solution. Having worked with clients such as Toyota, Honda, Chrysler, and Ford to name a few, we are confident that our ergonomic products will not only increase your productivity but substantially reduce injuries at your facility.
Some of our Recommend Solutions Include: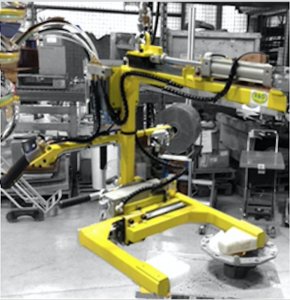 End of Arm Tooling
Our most common requests come in the form of End of Arm Tooling. We are often approached with a problem regarding the movement, placement or rotation of a standard product. The strains that come from repetitive, heavy and/or frequent movement are a substantial cost to our clients. We routinely engineer, design, fabricate and install vacuum lifting, zero gravity, lift and rotate, or pick and place systems for our clients.

Custom Solutions
Let's face it, most of the work we complete for our Manufacturing and Automotive customers is pretty specific and highly customized. It is this challenge that drives us here at R&D. We strive to solve any ergonomic challenge and cater our solution to take into account situational conditions, workers ability, speed and repetition challenges and the return on investment for your business.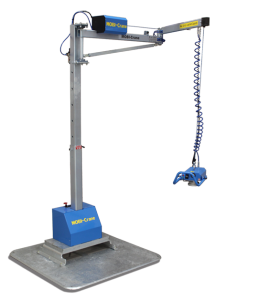 Overhead Cranes
Overhead Cranes are a viable way to ensure movement of heavy equipment is conducted in a controlled and safe manner. These systems are ideal for equipment that will remain in a particular vicinity and are in excess of an approved lifting weight.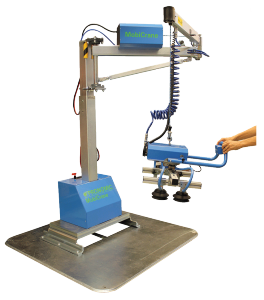 Portable Jib Cranes
Our fully Portable Jib Cranes eliminates costly site preparation costs which are required by conventional floor mounted Jib Cranes. This revolutionary design can be easily transported by a fork truck on the shop floor, providing ergonomic lifting solutions on multiple use applications.

Work-Related Musculoskeletal Disorders >
Benefits of Implementing an Ergonomic Solution >