Drum Handling Units for Hazardous Areas
Designed to be one of the quietest drum handling devices available, this drum handling unit uses low decibel air motors, which helps eliminate the need for hearing protection when operating this machine. With the use of specialized ergonomic casters, these drum handling units not only provide the easiest roll ability but are also chemically resistant, non-marking and are essentially maintenance free.
Tips for handling drums in hazardous areas
Check the drum for damage before transferring, and make sure the bung/lid is fastened tightly. Drums of harmful chemicals may be covered in hazardous residues; thus, use the proper PPE. Make sure the path you intend to follow to transport drums from point A to point B is clear and free of any debris or obstructions.
Specifications/Features
Projects
Video
Resources
Specifications/Features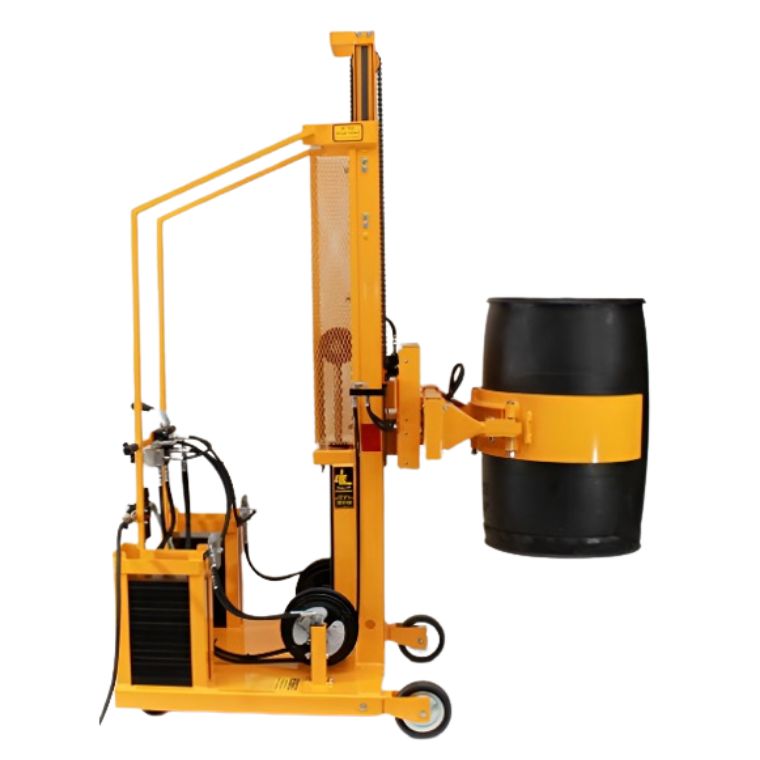 Dimensions. 34″ width x adjustable length according to capacity x-height determined by the size of single or two stage mast.
Gripping Mechanism. Clamp
Movement Lift Heights to the bottom of the drum in vertical position vary from 48″/1219 mm to 144″/3656 mm depending on your requirements.
Weight Capacity. 200 lbs to 1,000 lbs
Design For Lifting and moving drums weighing up to 1,000 lbs.
Controls. Push Buttons
Safety Features Built-in safety feature controls prevent accidental release of the drum
Number of Users. 1 User
Projects
Video
Resources
A Guide to Workplace Musculoskeletal Disorders
We offer a huge selection of products and quick quotes for what you're looking for
Give us a call. Our friendly customer service staff are on hand to help you.