Vacuum Lifting
From heavy box handling to delicate glass maneuvering, ergonomic vacuum tube lifters service many needs. Our vacuum lifting systems can be tailored for the speed, precision or on power conservation that suits your needs. Each unit can perform different applications, using different attachments and power options. Below are some of past vacuum lifting projects.
Learn more about vacuum lifting systems here >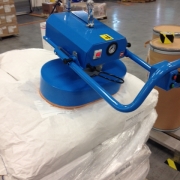 Vacuum End Effector for Warehouse
This warehouse needed a way to lift a variety of different items up, without damaging them.