Roll Handling Solutions
Which Roll Handling Solution will work best for you depends on a variety of factors such as industry, weight capacities, transportation needs, and job-specific demands. To make things a little easier and assist in deciphering which solution will work best for you, we work with our customers in order to determine which solution is best for you. Below are some of past roll handling solutions in use.
Learn more about our roll handling solutions >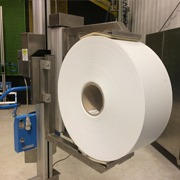 Roll Handling System
R&D Ergo Ltd successful supply and installation of a roll lifting solution provided to a major food manufacturer in southern Ontario.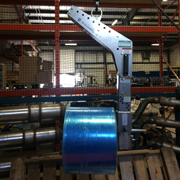 Hoist Based Roll Lifter
This customer needed a solution in order to lift rolls with their hoist/crane.