Lift Tables
We provide a wide variety of lift tables in order to ensure that we have the table to fit your needs; all of our lifting tables can be customized in order to truly meet your material handling requirements. These tables are designed in order to help you create a safer, healthier, more efficient workplace work place for your employees. Below are some of past lift tables in use.
Learn more about our lift tables here >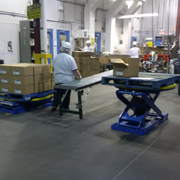 3 New Bishamon EZX Loaders
This ergonomic solution immediately resolved our customer's concerns and increased productivity.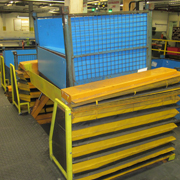 Pit Mounted Drive on Lift Table with Safety Skirt
This drive on lift table is designed with an opening in the wire mesh dunnage in order to allow the operator to safely and ergonomically load or unload parts in and out of the dunnage.