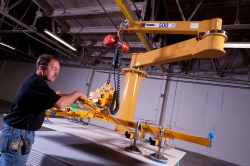 Customer Concerns
One of the industries in which vacuum lifting is particularly beneficial is wood processing and furniture manufacture, where the product is not particularly heavy but does need handling & manipulating in a safe and damage-free way. Manually lifting sheets of Plywood, MDF, Particle Board and Laminate is very labour intensive. It usually requires two or more persons to handle the sheet unless sliding of the material is acceptable. However, that is not optimal as sliding sheet material can create scratches and damage to the equipment making it unacceptable to the customer. It is also a safety concern for personal injury, if the sliding of the material gets out of control.
Material Handling Objectives
To develop a method to handle sheet material safely by one operator, protect product from scratching, protect equipment from damage and optimize production of machining center (volume).
Solution to the Problem
Let R&D Ergo design, supply and install an ergonomic solution for handling your material handling needs. Although every situation can be considered custom, here are a couple standard solutions to consider. For the operator to safety handle individual sheets, 5ft x 10ft x 1" thick, from 4" off the floor to your stack / machining center bed height. A vacuum lifting system whether its hoist or tube lifter based is the solution and it could be suspended from a jib or bridge crane depending on the area of floor coverage you require (see below sample project photos). One of these systems will allow the operator to easily lift individual sheets and keep up to the machining centers cycle time. Vacuum lifters are easy to maintain and virtually foolproof to use. It is an efficient way to move products from point A to B and also helps eliminate workplace injuries.
Benefits
Efficient, non-damaging handling of heavy loads
To work ergonomically and protect operator health
Excellent work safety and process reliability
Long service life
Low operating costs